CFTC Enforcement Director Provides Updated Enforcement Guidance
October 20, 2023
On October 17, 2023, Ian McGinley, the Enforcement Director at the Commodity Futures Trading Commission (CFTC), delivered a speech at the New York University School of Law Program on Corporate Compliance and Enforcement. He addressed the perception of the CFTC's enforcement approach, emphasizing his commitment to dispelling the myth of the agency being "friendly" in this regard. Under his leadership, the CFTC filed 96 enforcement actions and obtained orders imposing over $4.3 billion in monetary relief in the fiscal year 2023 alone.
McGinley highlighted the quality of the cases brought forward, including actions against notable digital asset companies like FTX, Binance, and Celsius. He underscored the deliberate changes in enforcement actions, characterized by increased penalties, imposition of compliance monitors and consultants, and requiring admissions in settlements. These changes align with the goals of ensuring accountability and minimizing future misconduct.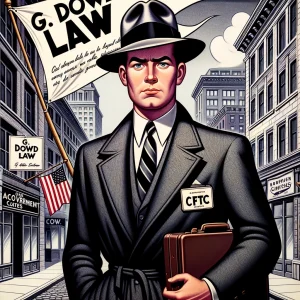 The speech announced updates to the Division's enforcement guidance, focusing on penalties, monitors and consultants, and admissions. These updates aim at enhancing the effectiveness of the CFTC in holding entities accountable and preventing future violations. McGinley emphasized the importance of deterrence, both general and specific, to discourage entities and individuals from unlawful conduct. He cited the ongoing issue of inaccurate or non-reporting of swaps by dealers, stressing the need for penalties that exceed the costs of compliance to deter such behavior.
The speech also addressed the challenge of recidivism, where entities repeatedly violate the law. McGinley outlined factors considered in assessing recidivism, including the nature of prior and current violations, time between offenses, involvement of overlapping management, pervasiveness of new misconduct, and the effectiveness of remediation efforts. The Division intends to prioritize recidivism as a significant aggravating factor, leading to increased penalties.
McGinley elaborated on the roles of Monitors and Consultants in ensuring remediation to reduce the likelihood of future misconduct. Monitors, approved by the Division, oversee and test the sufficiency of remediation, while Consultants advise entities on compliance enhancements. The imposition of Monitors and Consultants aims at ensuring that resolutions minimize the risk of recurring misconduct.
On the topic of admissions, McGinley highlighted a shift from the traditional no-admit, no-deny basis of resolutions. The Division will consider the appropriateness of admissions in every negotiation, influenced by factors like parallel criminal resolutions, conclusive evidence of misconduct, and the nature of offenses. Admissions are seen as instrumental in promoting accountability, justice, and deterrence, and facilitating post-resolution cooperation.
In conclusion, McGinley emphasized the importance of accountability and minimizing future misconduct as central objectives of the Commission and Division. He advocated for the balance between incentivizing settlements and deterring misconduct, underscoring the significant consequences for misconduct and the mitigating effects of self-reporting and cooperation. The initiatives announced are viewed as steps towards enhanced accountability and deterrence of future misconduct, contributing to the CFTC's mission of protecting the public and preserving market integrity.
The full text of Director McGinley's comments can be found here.
---
Return to G. Dowd Law Home.